Ignacio de la Torre se incorpora al Departamento de Arqueología y Procesos Sociales (IH) con un ERC-Advanced Grant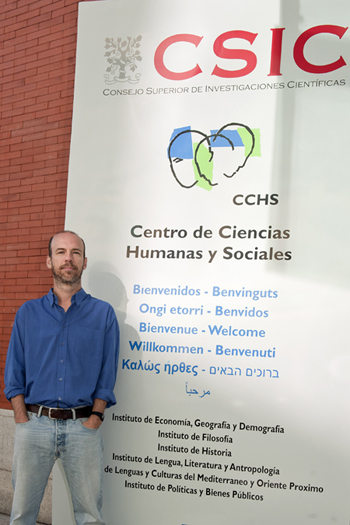 Ignacio de la Torre (IH) se incorporó al Departamento de Arqueología y Procesos Sociales el pasado octubre de 2019, procedente del Institute of Archaeology en University College London. Ignacio ha obtenido un ERC-Advanced Grant titulado Biogeographic and cultural adaptations of early humans during the first intercontinental dispersals (BICAEHFID) (https://cordis.europa.eu/project/id/832980), que desarrollará en el CCHS entre 2019 y 2024. Este proyecto cuenta con una subvención de 2.5 millones de euros e incluye investigadores de Estados Unidos, Alemania, China, Tanzania y Reino Unido.
BICAEHFID investigará la biogeografía y conductas adaptativas de los primeros humanos, basada en la comparación de los registros de África y Asia, regiones que contienen dos de las secuencias más largas de primeros yacimientos arqueológicos en todo el mundo. El proyecto investigará así los temas principales relacionados con el estudio de las primeras migraciones humanas, y busca establecer una hoja de ruta para la comprensión de las trayectorias evolutivas alternativas adoptadas por homininos que, aun compartiendo un fondo biológico y cultural común, se enfrentaron a retos y oportunidades climáticas y biográficas diferentes.
Según detalla el European Research Council, los ERC Advanced Grants se conceden a investigadores en activo que han obtenido éxitos científicos significativos en los últimos 10 años. Los investigadores principales deben ser líderes excepcionales en cuanto a la originalidad y significancia de sus contribuciones científicas.
Ignacio de la Torre fue becario predoctoral en el Departamento de Prehistoria del CSIC y se doctoró en la Universidad Complutense en 2005. Obtuvo en ese año una plaza de profesor titular en el Institute of Archaeology de University College London. Entre 2012 y 2016 fue el Investigador Principal de un ERC-Starting Grant (https://cordis.europa.eu/project/id/283366) en el mismo Institute of Archaeology de UCL, donde ocupó desde 2015 la Cátedra de Arqueología Paleolítica, y donde ahora mantiene una posición como Honorary Professor of Palaeolithic Archaeology tras su reciente incorporación al CSIC.