Ciclo de conferencias de Historia del Caribe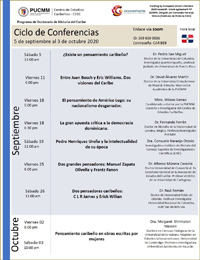 Online. Hora local República Dominicana
Enlace vía Zoom ID: 369 639 0036 - Ctsña: CARIBE9
Ciclo de conferencia del 5 de septiembre al 3 de octubre
Organiza: Proyecto Connected Worlds. The Caribbean, Origin of the Modern World (IH-CSIC) y Pontificia Universidad Católica Madre y Maestra (PUCMM).
Programa de conferencias
- 5 sep. 11.a.m.: ¿Existe un pensamiento caribeño?, por Pedro San Miguel (Prof. jubilado Univ. Puerto Rico)
- 11 sep. 6.p.m.: Entre Juan Bosch y Eric Williams. Dos visiones del Caribe, por David Álvarez Martín (PUCMM)
- 18 sep. 5 p.m.: El pensamiento de Américo Lugo: su nacionalismo desgarrador, por Wilson Genao (PUCMM)
- 18 sep. 6:30 p.m.: La gran apuesta crítica a la democracia dominicana, por Fernando Ferrán (PUCMM)
- 19 sep. 11 a.m.: Pedro Henríquez Ureña y la intelectualidad de su época, por Consuelo Naranjo Orovio (IH-CSIC)
- 25 sep. 6 p.m.: Dos grandes pensadores: Manuel Zapata Olivella y Frantz Fanon, por Alfonso Múnera Cavadía (Prof. emérito Univ. Cartagena)
- 26 sep. 11 a.m.: Dos pensadores caribeños: C L R James y Erick Wilian, por Raúl Román (Univ. Nacional de Colombia).
- 2 oct. 6 p.m. y 3 oct. 6 p.m.: Pensamiento caribeño en obras escritas por mujeres, por Margaret Shrimpton Masson (Univ. Autónoma de Yucatán)