Postgraduate Course "Reading Texts, Reading Objects (3): Identity / Authority. Studying Intercultural Contacts through Primary Sources"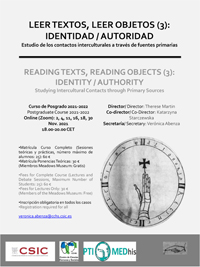 Dirección: Therese Martin (IH-CSIC) y Katarzyna K. Starczewska (ILC-CSIC)
Secretaria: Verónica Abenza (IH-CSIC)
Online course by Zoom: 2, 4, 11, 16, 18, 30 Nov. 2021, 18.00-20.00 CET
Languages: English and Spanish.
Maximum Number of Students: 25.
Course aimed at: MA Students and PhD Candidates, Postgraduate Students of History, Art History, Museum Studies, History of Religions, Philologies, Philosophy, Archaeology, and Journalism.
Number of Hours: 21 (9 in Lectures, 12 in Debates).
The sessions will be taught entirely online and will consist of two parts: twelve prerecorded lectures and six live debate sessions.
Fees
Complete Course (Lectures and Debate Sessions, Maximum Number of Students: 25): 60 €
Lectures Only: 30 €
(Members of the Meadows Museum: Free)
Registration required for all: contact veronica.abenza [at] cchs.csic.es
Certificates will be issued only to students who attend all lectures and discussion sessions and participate actively in debates.
This course is tailored for the needs of graduate students interested in the different types of detailed analysis of a wide range of primary sources, both written and material. After the warm welcome received by the two previous editions of this course (CCHS-CSIC, 2017 and 2018), the researchers of the Interdisciplinary Platform Social & Cultural History of the Mediterranean (MEDhis), together with a group of national and international researchers, offer the third edition of the course. This year the theme will revolve around the issue of self-representation, understood in its broadest sense as a strategy aimed at highlighting authority. In the written sources, literal descriptions of identity will be analyzed in order to reveal the strategies designed to establish influence over the interlocutor (reader). Special attention will be paid to religious controversy, prologues to translations, scholarly debates, and inquisitorial documents. As for the material and visual sources, objects and representations that reveal the intentionality of the promoters towards the various viewing publics will be studied.
From a detailed reading of the primary sources, the methodological tools designed to answer the following questions will be discussed: how to approach primary sources with a critical eye? How to contextualize the message they give us? What are the theoretical frameworks suitable for researching these artifacts in a cross-cultural and interdisciplinary way? How to evaluate historical "truth" of sources when written and material texts contradict each other?