Webminar "Cofradrías de negros, morenos y mulatos en la Catedral de Santo Domingo"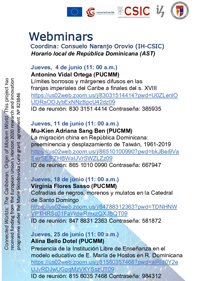 Online. 11 a. m. Hora local República Dominicana
Por Virginia Flores Sasso (PUCMM)
Link de acceso https://conecta.csic.es/b/jua-2kr-kac
Organiza: Proyecto Connected Worlds. The Caribbean, Origin of the Modern World (CSIC) y Pontificia Universidad Católica Madre y Maestra (PUCMM).