Workshop "The Study of Written Artefacts in Spain: The MEDhis Consortium"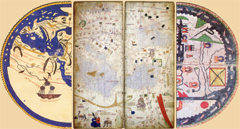 Venue: Centre for the Study of Manuscript Cultures, Warburgstraße 26, (Hamburg, Germany)
MEDhis is a consortium of scholars in the field of Mediterranean studies whose research centers on the social, cultural, artistic, and archaeological analysis of Western Christian, Islamic, Jewish and Byzantine interaction in medieval and early modern times, and in which the Mediterranean is accorded its widest possible geographic definition.
MEDhis is particularly interested in methodological and historiographical concerns related to all forms of exchange and its dynamics within the Mediterranean, the transmission of knowledge in the formation and transformation of its political, ideological and aesthetic languages, the role of institutions in the development of societies, and the agency of artifacts in religious, political, social, and economic contexts (more information on MEDhis). In this Workshop, MEDhis members will present their present projects of research related to the study of written artefacts in the Iberian Peninsula.
Organized by: Centre for the Study of Manuscript Cultures (CSMC) and the MEDhis consortium at the Institute of History (IH-CSIC) and the Institute of Languages and Cultures of the Mediterranean (ILC-CSIC)